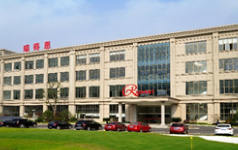 Suzhou radiant automatic equipment technology co., LTD is subordinate to Radiant Group, founded in 2015.The company predecessor is Suzhou Chuang jie automatic instrument co., LTD, founded in 2002, specializing in precision machining of various kinds of pneumatic tools, auto parts, mechanical equipment spare parts. The group is located in the famous scenic area of Suzhou Wuzhong District town.
  The group has workshop of 17200 square meters, 6000 square meters of the red well controlled. Company has strong technical strength, professional staff. With all kinds of machine processing equipment more than 70 units, has formed a certain professional
The implementation of supporting production for the world top 500 enterprises
The main products: Suzhou Ruide automation equipment electric tools, pneumatic tools, automotive maintenance equipment and mechanical parts, is the world's top 500 enterprises supporting the production, including several of the world's largest tools, auto maintenance equipment industry giants: Black & Decker Technology Company Limited (BD), the United States Senco Tools Co. Ltd. (SECON) the United States, snapon Tools Co. Ltd (SANP-ON), the United States Hennessy Auto Equipment Co. Ltd (Hennessy) etc..

With the further development of the market economy, the company believes that only with high-quality products and excellent service to meet customer needs and expectations, in order to seek greater development. In order to improve the management level of enterprises, in line with international standards, the company in 2004 by the British Moody International ISO9001:2008 quality system certification.
The company to nurture, cherish and care staff for the business philosophy, for employees to achieve their highest potential, adhere to the integrity, diligence, in a pragmatic way, endless pursuit of quality, service, innovation, cost, contribute to a truly harmonious society. In the management and use of the above principles, to provide customers with the leading industry technology to provide customers the most valuable products and technical support services.